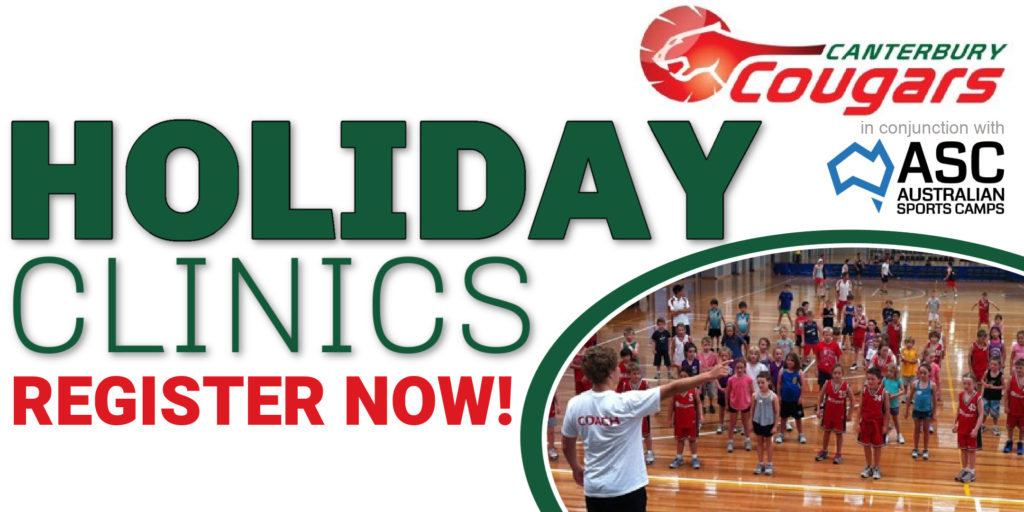 Cougars has teamed up with Australian Sports Camp (ASC) to run Holiday Clinics both in December and January!
Three day Cougars Basketball Clinic – 9am-3pm each day!
December – 21, 22 and 23rd
January – 11, 12 and 13th
Both held at Camberwell Grammar School, Canterbury
The Canterbury Cougars and ASC Basketball Camp features a three day coaching program in all facets of basketball with specialist coaching sessions. The panel will include experienced basketball coaches with guest coaching from leading players and coaches. The Camp is being held exclusively for Cougars players only, by Australian Sports Camps, in conjunction with Cougars Coaching Director Natalie Stevens.
Price per player is $260 for the 3 days.
The camp runs from 9:00am to 3:00pm each day however we do advise that you bring your child a little earlier to ensure we can check them in and be started ready to go at 9:00am.
09:00 – Structured Warm-up
09:10 – Defensive Skills
10:00 – Drinks Break
10:10 – Tactical Session
11:00 – Specialist Coaching Session
11:50 – Lunch
12:30 – Agility Session with Technology
01:10 – Attacking Skills Session
02:00 – Drinks Break
02:10 – Video Record Key Drills and Coach / Group
Analysis
02:50 – Structured Warm Down
03:00 – Sign Out
Numbers are limited so register now!
December program: http://australiansportscamps.com.au/book/vic-cougars-basketball-camp-canterbury-1/  Password: Cougars1
January Program: https://australiansportscamps.com.au/book/vic-cougars-basketball-camp-canterbury-2/  Password: Cougars2